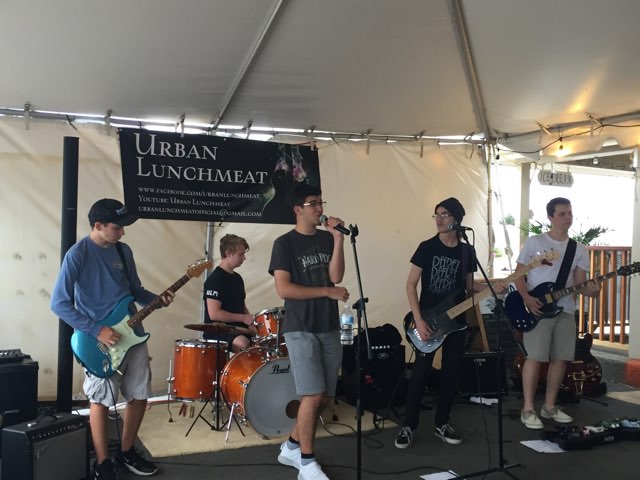 Genre
Alternative Rock
Social Media
https://open.spotify.com/artist/6WDne39UpeDOtuw1qtUl0t
https://www.youtube.com/channel/UC5Yy0f72OovEPCC6m9IU3PQ/featured
https://www.facebook.com/urbanlunchmeat/
Music Bio
Urban Lunchmeat is a teen rock band from Easton, MA that plays classic and alternative rock. Brought together through Mockingbird School of Music in 2016, the band now plays at local music venues, events, fundraisers, and private parties. All members are currently 16-17 years old and are passionate musicians. Band members include Joe Fraone – lead vocals, keyboard and guitar, Nate O'Reilly – lead guitar, Dylan Rice – drums, Jack McCarthy – rhythm guitar, and Anthony Giambusso – bass and vocals.
Musical inspirations include Pearl Jam, Red Hot Chili Peppers, Green Day, Queen, Foo Fighters, Stone Temple Pilots, Blink 182, Sublime, Pink Floyd and The Beatles.
Urban Lunchmeat has been writing and producing their own original songs and has three singles out on Spotify and other music platforms: The Dress, Paper Plates, and Shadow of a Man. Their first single,The Dress, was featured on 92.5 The River Homegrown Showcase. They are currently working on new songs to complete an album.
Recent performances include the Youth Talent Showcase, "Bright Lights" Concert series, Young Performers Showcase at the Hard Rock Cafe in Boston, Shovel Town Brewery Summerfest and Oktoberfest, and the Remember September Music Festival. They have also played on the Showcase Live Foxboro stage and at other fundraising events. They are excited to share their music with a wider audience at the Boston Arts Festival.