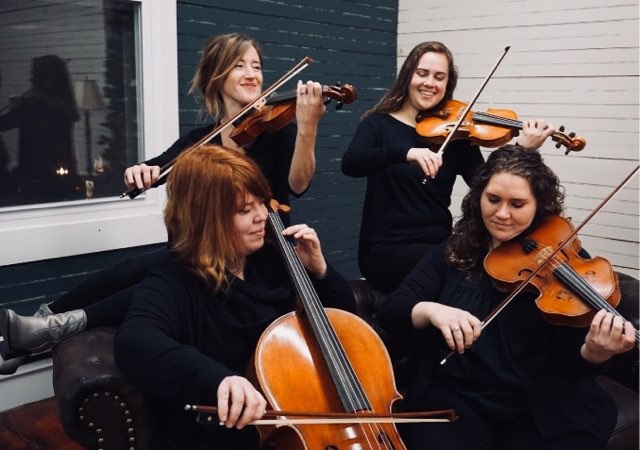 Genre
Classical/Pop/Rock/Folk
Social Media
http://www.facebook.com/loftstringquartet
https://www.facebook.com/LoftStringQuartet
https://musicloftbridgewater.com/lsq
Music Bio
Loft String Quartet is an alternative string group made up of violinists Katie Cooke and Sara Weir, violist Cassie Sulbaran, and cellist Kristy Foye. We feature a variety of modern music for strings including pop, rock, folk, and some classical. We love to mix it up with our repertoire and have fun while doing it!
Bios:
Kristy Foye – Cello
Ms. Kristy Foye is the instrumental music teacher for grades 4-5 at the Richardson Olmsted Elementary School in Easton, MA. She is also director of the Easton Middle School Chamber Orchestra and the 8th Grade String Ensemble, which meet after the school day. Ms. Foye received her undergraduate degree in Music Education from Berklee College of Music and her graduate degree from the Boston Conservatory.
In 2006, Ms. Foye began her music education career at the Conservatory Lab Charter School in Brighton, MA, teaching violin to students in grades 1-5. From 2009-2011, Ms. Foye worked for the Marblehead Public Schools as Orchestra Director for grades 3-12. As a cellist, Ms. Foye has pursued a diverse career in music, having performed and recorded with a variety of ensembles/bands throughout the Boston area. She is a member of the pop-rock group Walter and the Night Owls as well as local cover-band The Fancy Bassetts.
Katie Cooke – Violin
An active musician and teacher in the South Shore/Boston area, Katie has taught private string lessons throughout the region for over 15 years. She has served as orchestra director for grades 4-8 in the Westwood, Fall River, and Cambridge Public School systems. Katie grew up in Easton, Massachusetts and began studying piano at age 7 and violin at age 9. She fell in love with performing and teaching at an early age and went on to pursue a BA in Violin Performance from Westfield State University. She also holds music teaching certification in the state of Massachusetts.
Katie performs frequently with various groups including wedding string quartets, chamber ensembles, and is a member of alternative folk/roots rock trio The Fancy Bassetts.
Her favorite part about teaching is helping students push themselves out of their comfort zones in order to grow into confident young musicians and people who live life to the fullest.
Cassie Sulbaran – Viola
A native of Saratoga Springs, NY, Dr. Cassandra Sulbarán began her musical studies on piano and violin, later dedicating herself to viola as an undergraduate at Ithaca College. Cassandra graduated summa cum laude from Ithaca in 2005, earning a Bachelors in viola performance with Debra Moree, and continued her studies at the University of Maryland, completing her Masters in 2007 with Katherine Murdock, and her Doctor of Musical Arts degree with Daniel Foster in 2011.
Prior to moving to the Boston area, Dr. Sulbarán was the associate professor of viola and chamber music at Ithaca College for the 2013-2014 academic year. Currently, she serves as viola and chamber music faculty at the South Shore Conservatory, in addition to teaching 4th-5th grade band and orchestra at Morrison Elementary in Braintree, MA, and orchestra and piano at Braintree High School.
After a transformative trip to Venezuela in 2008, Dr. Sulbarán became a visiting professor of strings with a núcleo in Acarigua, part of the now-famous El Sistema music education movement. She is active in the El Sistema community in Boston, and has worked with several programs in the area both teaching and consulting.
Sara Weir – Violin
Sara graduated from the University of Rhode Island in 2009 receiving her Bachelor's degree in music education. While at URI she was awarded concertmaster of their Symphony Orchestra, the Kingston Chamber Music Festival Scholarship, and the Undergraduate Honors String Quartet Scholarship. Upon graduation Sara moved to Vermont to pursue her career in music education. While in VT, Sara taught a variety of music classes ranging from elementary school general music to high school chorus. She also built up a private studio with students of all ages and experiences.
As Sara was working and performing full time, she completed her Master's degree in music education in 2015 from Boston University. Sara now resides in the Boston area, teaching band and orchestral instruments for grades 6-8 in the Cranston Public School system. In their after school program, Sara teaches guitar and ukulele.